"Gbobètô was born from the observations made by members of the Beninese diaspora and friends of Benin during their stays in Porto-Novo, capital of the Republic of Benin. First, that of an incredible natural and cultural wealth, however endangered by poor environmental management and urban services. Then, that of the very precarious living conditions of a large segment of the population, due to the shortcomings mentioned above, but also because of the Weakness of the local economic fabric, where do-it-yourself activities predominate, low-paying and devoid of social protection. The Gbobètô, ("garbage collectors" in goun-gbé, the majority local dialect), particularly embody this material and environmental precariousness. Outlawed from society because they live off what is 'dirty' and considered as scrap, they are nevertheless essential links in the recovery of waste in the city: with their modest means and at the risk of their own health, they recover, on the heaps of rubbish, the garbage which could find a second life with the craftsmen and traders of Porto-Novo. While they are the first actors to build bridges between environmental management and economic activity, this difficult and thankless work barely allows them to survive.
Gbobètô is therefore a tribute to all those excluded from society, to those who suffer the combined effects of poverty and environmental degradation. It is also a promise: that of working hand in hand to improve their condition."
- Naomi Fagla Medegan, founder of the association
The Plasic Counter is the recycling project of two types of plastics widely present in households Beninese: high density polyethylene (PE) and polypropylene (PP).
In this project, the goal is not to replace the actors who collect household waste, but to offer them a path to recovery, which until now has remained relatively informal. In a context of reform of waste collection at the level national level, Gbobètô accompanies informal collectors who are seen to be denied access to the dumps in which they working. Exchanges between Gbobètô and the Waste and Sanitation Management Organization (SGDS) have recently led to a formalized agreement which should allow the collectors to find a place in its own right within this ecosystem.
For the 100 identified beneficiaries, Gbobètô has given itself to objective of improving their working and living conditions through several initiatives: buy back the plastic collected from them at a just (1), provide them with work equipment in order to preserve their health (2), develop a series of social interventions for their attention (training, financial education, implementation of a savings funds for risks, etc. (3). After the plastic has been bought back from the collectors, it is transported to the Gbobètô site, where it is sorted and crushed, in order to make glitter. These will be sold to the industry continental, which will allow a reduction in the share of virgin plastic used in industrial processes. The general objective of the project is therefore to support the actors official and informal in a better practice of sorting selective, to increase waste recovery rates plastics from household waste, to improve the conditions work of informal collectors and to stimulate an economy circular around the plastic waste.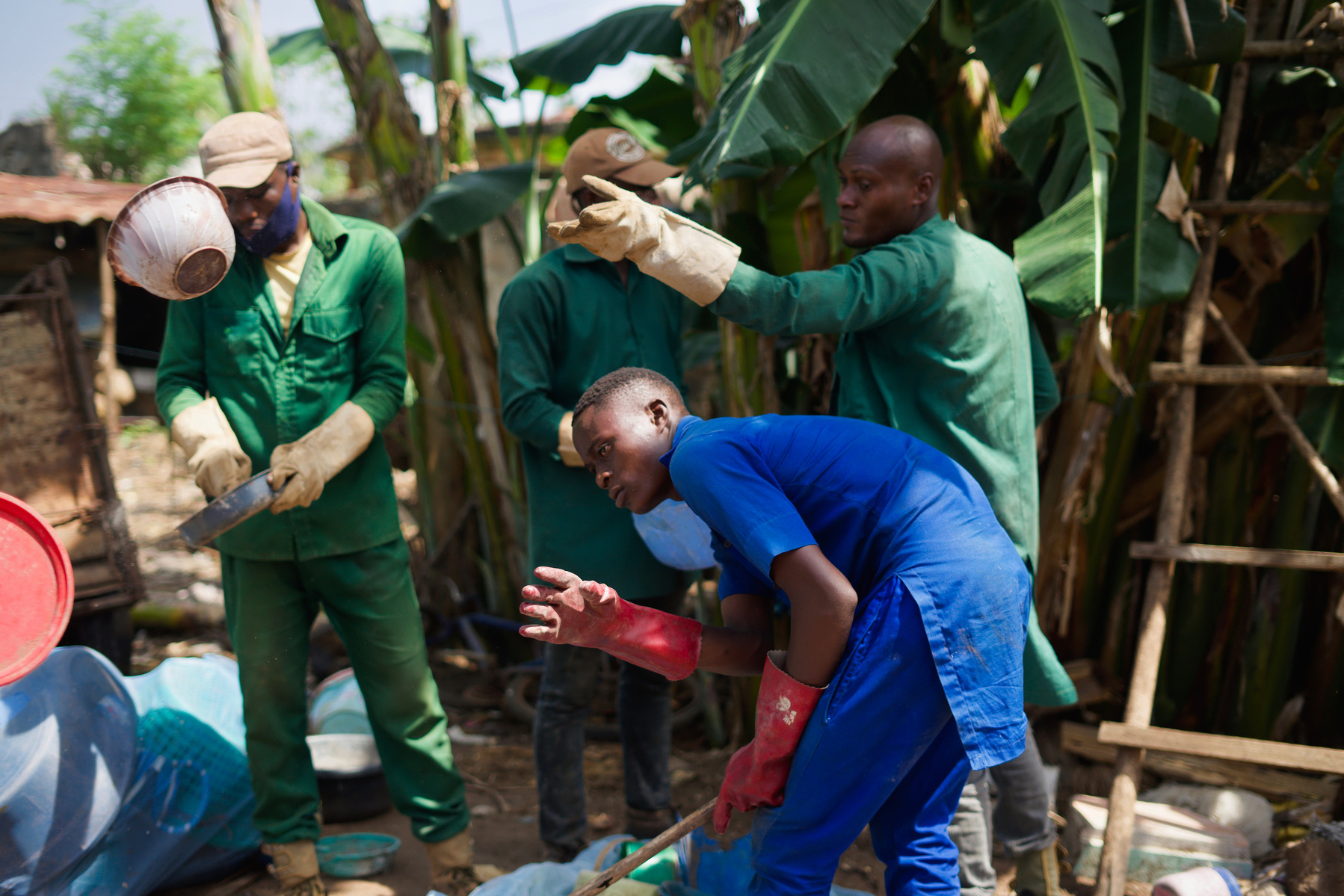 The green energy project, also commonly referred to as the "briquettes project", allows Gbobètô to collect residues and waste organic with professionals and agricultural groups from the Porto-Novo region, in order to transform them into briquettes of ecological fuel.
Corncobs, stalks, nutshells or still paper are all examples of components that participate in making these briquettes. The residues are bought by Gbobètô, and brought to their site of production in order to be crushed, then mixed with water according to a specific dosage. This mixture feeds a manual press, whose stand out the briquettes of ecological fuel. The dosage of the different raw materials is currently in research and development phase thanks to partnerships volunteers established with 200 very precarious beneficiary households. These households are invited to take turns cooking. are used at both briquettes and the improved stove developed by the association, which, thanks to an air suction system, allows multiply the calorific value of the fuel used. From this resulting in a significant reduction in energy requirements for the preparation of meals, as well as a considerable saving for households. The general objective of the project is to offer a healthy alternative, ecological and affordable charcoal, to valorize waste and untapped organic residues, and to create jobs direct and indirect greens at each stage of the value chain.